We've reached out $50,000 target! The success of this project would not have been possible without the support, the belief and the contribution of my 487 funders from 31 countries and regions around the world. THANK YOU!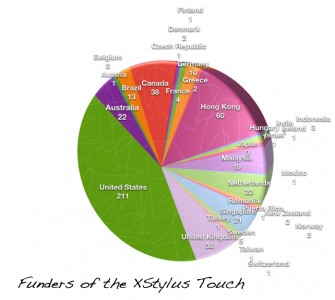 In this update, I'd like also like to thank someone very special, someone with a big heart who wants to see the XStylus Touch become a product as much as you and I. Please give a round of applause to our wonderful angel investor!! Thank you so much for your support and contribution to the XStylus Touch project, but above all, I'm so grateful for your constructive comments on how we can improve this product, and bring it on the world's stage. I'll put in the best I have to make it successful.
Wow, I can't believe it's been almost 60 days already and I have to admit, it has been some roller coaster 60 days. I'll be meeting the factories on Tuesday to discuss production plans and will post an update end of the week on the production progress, a timeline, and hopefully an estimated delivery date.
Thank you once again and happy week-end!
Love y'all!
Elton