Funders & Supporters of the XStylus Crayon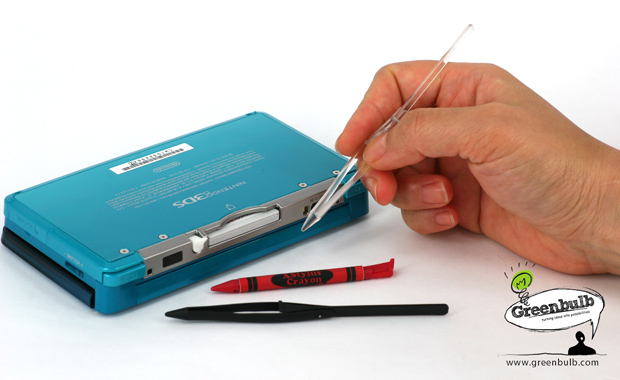 The premiere production of the XStylus Crayon is made possible by the support and contribution of 292 individuals from 24 countries or region across the world! It has been an amazing 60-day fundraising campaign on indiegogo.com and we would not have reached this far without the superb support from these amazing people.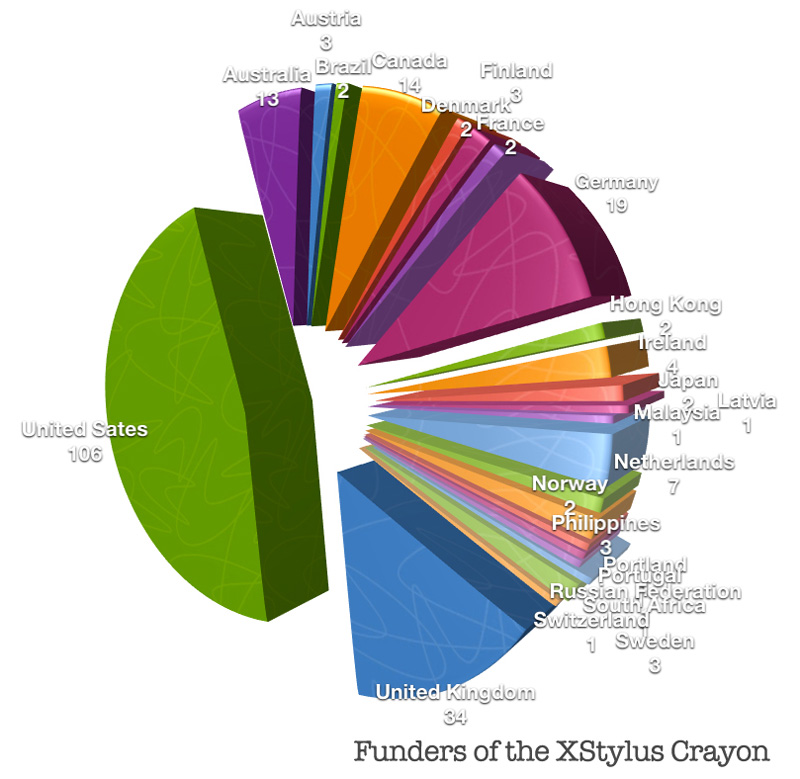 Thank you for believing in this low tech simple design that aims to enhance your touch pen gaming experience!
Missed the IndieGoGo Pre-Order?  Buy yours here.
*** IndieGoGo funders, if you can't find your name on the list, please email to info@greenbulb.com and let us know.

Star Level
Flower Level
Anton Zeltser
Benjamin Pavesich
Carl Olsson
Chris Ham
eileeng0825
Glen Estrosos, founder of StreetPass IE
HARRISON LEONG
Joel Makarov
Kyle Fozo
Tim Burnett
Mushroom Level ($30)
@art2gee
Alexander Bayer
Alexander Mills
Alexander Tomschy
Benjamin Reichstein
Claudia
Danny van Delden
David Cordero
David M
Dean Mattas
Faye Ku
Jonathan Tullett
Kenneth DuBree
Liam S-J
Markus Stadler
Menno H. Mekern
Nadia Cotran
Rik Eberhardt
S Heller
Sam Watkins
sergio jimenez
sim4000
SKEETER
StaplerX
Stuart Smith
Tabasco
Mushroom Level ($15)
A Bugby
A1Vertigo
Adam Maxx Tisdale
Adam Wade
Ahmed Mosly
Alan Bradburne
Alex Answine
Alexandra Kyle
Alexey Popov
Alfred Sodenkamp
algeron
Andre Nascimento
Andrew Fletcher
Andrew Frewer
Andrew McGowan
Andrew Nguyen
Andrew Smith
Andrius
Andy1123
Angelo Ruffino
Bjoern Schneider
borenas
Brian Anderson
Brian H
Brian Johnson
Cameron Lui
Chaz Griffin
Chelsea Carey
Cheza
Chris Brumbaugh
Chris Wilson
Chris Yapo
Christopher Koo
Christopher Niziolek
Claas R.
cobalt
Craig Alsop
Daniel Kugler
Darwin Luna
Dave Michaud
David Grossberg
David Schroeter
David Wikman
Davin White
Denis Mohwinkel
Duncan Ingram
Edward Haag
Eelan Rodriguez
Er Lern Loh
Erfan
Eric Arambula
Eric Leslie
Ethan Compton
Ever700
Evgeniy "Dwalinn" Leonidovich
fabsolisian
Feld0
Francis Politzer
Freakachu
gadgetdave
Gamesomnia
Gareth Pitchford
Grant Sterry
Greg Mitchell
Gregory Turner
Grezm
H. Edwards
habble
ham90mack
Hans Granfors
Inazuma
Jack Smith
Jacques
James Anderson
James Clicquennoi
James Davis
Janek S
Janne Patsi
Jared -Tj- Matsushige
Jason Chong
Jason Clark
Jason Finucane
Jason Grindlay
Jason Smith
Jay Miller
Jeana Brown
Jennifer
Jerry Lavish
Jesper Mathiesen
Jetti Blue
Jimmy
Joe Elliott
Joel Bass
John Alsaker
John Laffan
John Madigan
Johnathan Rush
Johnnie Esquivel
Jonathan
Jonny Tan
Jordan Wilkie
Jose Olegario
Josh Matthews
Josh Woodworth
Joshua Beaulne
Joshua G.
Joshua J. Slone
Julian Lee
Justin Carmical
Kai Nikulainen
Kate Dy
Kate G
Kelly Johnston
Kestrel Villapando
Lady Lenni
Lars Karlsson
Lauren Teller
Layton Bergstedt
Lawrence
Lee Armstrong
Levi
Line O'Sevens
luis
Makoto Minamihara
Mandy Pandie
Marc Carter
Marcel Legat
Marck Madulid
Marco Kuznik
Mark Higham
Matt Iles
Matt Legowski
Matt Lowther
MATTHEW DOYLE
Matthew Rhodes
Matthew Thibault
Maurits Corstjens
Max De Benedetti
Maxwell Mooney
may88
Micah Jodoin
Michael Benediktson
Michael Mitros
Mike Danick
Mike McNeill
Mitchell Palmer
Morgan Bowman
Morgan Grubb
Mrback
Natasha P
Nate & Missy Levy
Nate Gibson
Neil Martin
NickyChu
Nikita Vakorin
Nollog
Olivia Luna
PandoraChaser
Peter Faber
Peter Nguyen
Peter Woodward
Philip Flood
Pierre-Luc Boulet
Piotr Domanski
Randy Jeffery
Reinhard Kreim
Rob Teng
Robert Hernandez
Ron Neely II
Ryan Harmon
Ryan Jones
Ryan Lake
Samarjeet
Sarah Hill
Sascha Wagner
Satchon
sbo919
Sebastian Görick
Shift
Silver
Simon Ruggier
Skrymir
Slash
Slava Rubin
Stephen
Stephen Brash
Stephen Turk
Stephen Wiley
Steve Dawes
Streetpass Princeton
Streetpass Wien
Strell
Stuart Parker
Teresa Addington
The Josephs
thegands
Thomas Looten
Tommy Jenkins
Tyler
Valtteri Wikstrom
Velazquez Bros.
Victor Villarreal
Vincent Cheung
VoA
Will Bishop
Will Ho
Will Murnane
William G.
William Goad
Xastabus
XStylus Crayon Fan
Zach Mehrkar-ASL
Zachary Z.
zebramatt
Gold Coin Level
Media Sponsor:
GreenBulb is grateful for the wonderful media support the XStylus Crayon has got all over the world!  A round of applause to our media sponsors, please!
This list is not a comprehensive list as we are still confirming the recognition names with a few more funders.